Department of MBA
About the Department
Department of Management Studies (MBA) is one of the finest and leading wing of the present 21st Century. It was established in the year 2018 with a motto to promote effective management education. Department is providing the real corporate life environment through business management techniques where the students be able to enhance their conceptual, managerial and effective leadership skills to meet global competitive world. The full time MBA (Masters of Business Administration) program is focused on Management Systems and is designed to be completed in two years. Now, Choose your specialization from
Career Opportunities in Finance
The MBA in Finance will offer a plenty of career opportunities in the areas of Structured Finance, Stock and Commodity Market, Financial Planning Investment Banking, One can also think of a startup in the area of Wealth Management, Financial Planning and Investment Advisory spaces.
Career Opportunities in HR
Students who specialize in human resource management. will learn about staffing, planning, recruitment and selection of employees, training, and development, performance management in the Multinational Corporations.
velopment and management of customers, markets, and strategy to serve those customers.
Career Opportunities in Marketing
A marketing concentration gives students to prepare themselves for careers in marketing fields that range from customer relationship management, product management, advertising, and sales, to retailing, e-business, strategic marketing planning.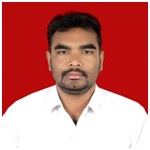 E.Aravind Goud
Department Coordinator
OBJECTIVE:
Its main objective is to develop young men and women into competent professional managers, capable of working in any sector of organized activity, proceeding leadership and achieving excellence in performance while contributing to the welfare of the larger society.