Library
Objectives:
The objectives of the library are:
To support the educational research and extension programmes of Dr. Abdul Haq Urdu University by providing access to global information.
To provide reading facility and services to the students for the success of all formal programmes.
To help the faculty members in order to keep them abreast of latest developments in their respective fields.
To co-operate with other libraries in India and abroad for resource sharing and networking
Library Organization:
In order to achieve functional efficiency, the library is organized in to 4 different sections. They are Circulation Section, Book Acquisitions Section, Periodicals Section, Reference Section.
Library Facilities:
The library of Dr. Abdul Haq Urdu University was started on Aug 16,2016 with a small collection of 117 books.
The university library is located centrally and is easily accessible to all the departments on the campus. It has steadily grown over the years and it now has 2252 books as on 31st March,2019.
The collection of library includes textbooks, Reference books, general literature, donated books, reports, back volumes of journals, M.Phil,&Ph.D., dissertations. The library subscribes 10 magazines(5 English & 5 Urdu).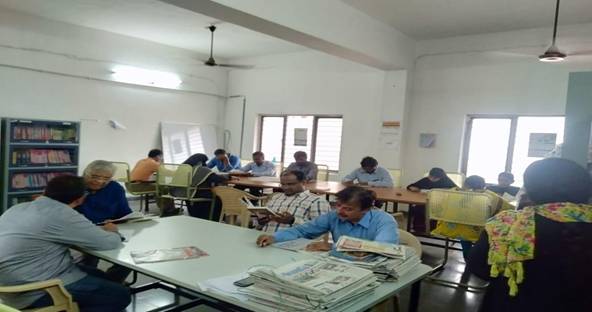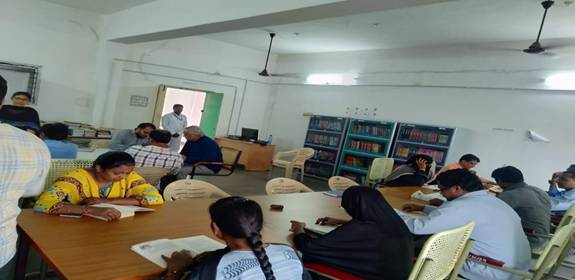 Order of Arrangement:
In order to provide better service to the users of the library the huge and perennial growth of its collection has been arranged in such a manner that the readers may not find any difficulty in locating the books of their choice.
Working hours:
The library is opened throughout the year except on Public& National holidays.
Week days: 10.00 AM- 5.00 PM
Prof. M. Suresh Babu, MBA Department, SV University, Tirupati has donated 350 volumes of Books worth approximately Rs. 80, 000/- to the Registrar, Dr. AHUUK, at SV University, on 14.08.2017.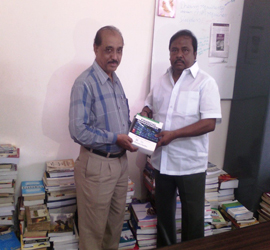 Books Donated:
Many books have also been donated by various philanthropists amongst them 100 books were given by our Prof.Muzaffer Ali Shahmiri Vice-Chancellor and 250 books on Management & Commerce were donated by Prof. Suresh Babu dept. of Management Sciences Sri Venkateswara University . 92 books were graciously donated by Maulana Azad National Urdu University (MANUU) Hyderabad .Dr. Md. Shaukat Hayat donated 98urdu books.
Future Plans of the library:
Development of Institutional Repositories of M.Phil&P.hd dissertations, publications of faculty members and question papers.
Separate Book Rack for SC/ST/Minority students purchased out of UGC specific purpose grant.
A collection of rare books in Urdu, Arabic and Persian languages to develop into a repository for research & reference purpose
After moving into a new building at Orvakal, which is at present under construction, a full fledged digitised library will be made functional.